Spring is really here, the fruit trees are finished blooming and The Man has even cut the grass.
On the money saving front, I didn't do anything different so far this month. Well, I did make myself some fancy new cleaning rags out of old tshirts. I cut them into 12″ squares, and then stitched two squares together by zig zagging around the edges and sewing from corner to corner. I told you they were fancy! These rags keep material out of the waste stream, are absorbent and lint free, and they wash, well like old rags.
I also picked up some free books from the free book exchange at our local laundry mat, while I was there using the big commercial washing machine to clean a big, heavy blanket.
While selecting my books, I thought about how I rely on internet challenges to keep myself motivated and how I am able to participate in these challenges by spending very little money. So far this year I have participated in the Mastery Challenge hosted by Food in Jars, the One Monthly Goal hosted by Elm Street Quilts, the reading challenge at Goodreads, and H invited me to participate in the #40days40items for Lent. I have spent almost no money taking part in these challenges but I have gained so much.
#40days40items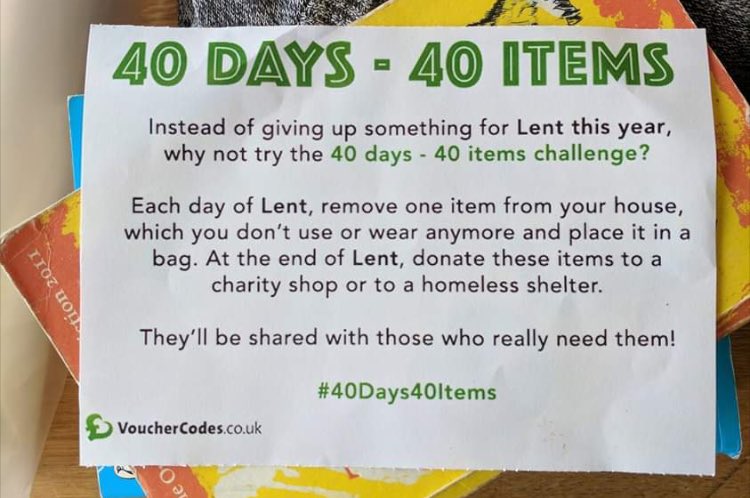 Of course, participating in the #40days40items was completely free as the goal was to get rid of clutter rather than accumulating more possessions. H did way better than me; in fact, I thing she is still giving stuff away! I did pretty well, but I struggled to give away 40 items. Here is what I did pass on:
One of the reasons I did not have 40 items to donate is because a lot of my excess stuff is crap and more rightly belongs in the trash. However, despite being four items short, I am happy with what I did accomplish.
Goodreads Reading Challenge
Reading is one of my favorite things to do. In the last few years, I have been neglecting my favorite hobby and denying myself this simple joy. This challenge has been remedying that. So far, every book I have read has come from the public library or free libraries (such as the one at the laundromat) or was purchased second hand for less than $1.00. So far this year, I have read 10 books and have rediscovered my love of reading.
Food in Jars Mastery Challenge
This is one of my all time favorite challenges. In the past I have been challenged to find new ways of doing things and some of these recipes and methods have continued to help me save money on food. Examples include yogurt, soup base, lemon curd, plum butter, and sour dough.
One way I save my pennies participating in internet challenges is be selective. I feel no obligation to participate in every activity associated with a challenge. For example, I am not doing this month's challenge, which focuses on berries, because cause I can't get my hands on free berries yet and store bought are way too expensive. However, last month's challenge, which was to use up last year's preserves, was dear to my heart. Here is what I made:
I was going to try a few savory dishes but not everyone in my household likes fruit and meat together – this one looked especially good:
Years and years ago, H gave me a recipe for apricot chicken that both my mom and I really like. If I can remember where I put it, I will post it.
If you have any interest in learning how to preserve food, Marisa's website is an excellent resource.
One Monthly Goal
I am always trying to reduce my fabric stash. This challenge has helped a lot and it has helped me make good on old promises as well as providing me with a few gifts. The temptation to spend money on fabric can be overwhelming but so far, I have used materials I had on hand. A frugal win!
The hexie stocking will be a Christmas gift made to match the one I made a few years ago.
The first quilt is a commission made using Opa's old hankies. I used a pattern I found in Quilt Style: Cool and Cozy Coverlets
The second quilt was a baby quilt for a good friend's brand new grandson. I made it using the Strip and Flip pattern found a Cluck Cluck Sew. If you are looking for a quick, easy, and good looking baby quilt, this pattern is perfect.
The last project is in the works and I am hoping to post a free pattern when it is done.
How are you using internet challenges to save you money or to keep you motivated? Leave a comment, I always love hearing from you.